Aggressive Retsuko (ONA) 3rd Season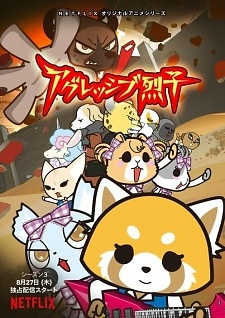 After an emotional breakup with her boyfriend, red panda Retsuko closes herself off to the thought of ever being in love again—well, with an actual person anyway. Retreating into the world of VR, her virtual boyfriend showers her with praise and shows up in cute outfits, albeit for a price.
While scrambling to find other ways to earn money, Retsuko finds herself in yet another financial bind after accidentally ramming into a parked van with a rental vehicle. The owner of the van, a gruff cheetah named Hyoudou, recruits her as an accountant for an underground idol group which he manages. Retsuko soon begins to buckle under the pressure from the new job, leading to plenty of inspiration for her next death metal vent sessions.
Keep Your Hands Off Eizouken!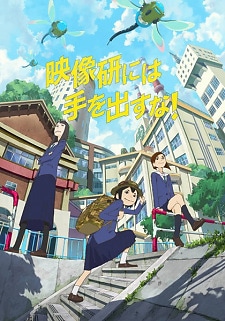 Midori Asakusa sees the world a bit differently. Always having her nose in a sketchbook, Asakusa draws detailed landscapes and backgrounds of both the world around her and the one within her boundless imagination. Even the simple act of doodling on a wall evolves into an emergency repair on the outer hull of her spaceship. She is only brought back to reality by her best friend Sayaka Kanamori. The pair are stark opposites, with Asakusa's childlike wonder contrasted by Kanamori's calculated approach to life.
After a chance encounter where the two "save" the young model Tsubame Misuzaki from her overprotective bodyguard, a connection instantly sparks between Asakusa and Misuzaki, as both share an intense passion for art and animation. Whereas Asakusa is interested in backgrounds and settings, Misuzaki loves drawing the human form. Sensing a money-making opportunity, Kanamori suggests that they start an animation club, which they disguise as a motion picture club since the school already has an anime club. Thus begins the trio's journey of producing animation that will awe the world.
ORESUKI Are you the only one who loves me?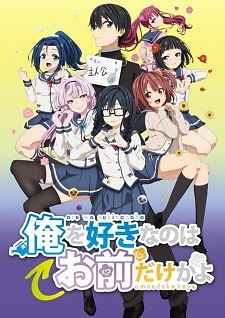 Amatsuyu "Jouro" Kisaragi is a completely average second-year high school student who has two dates over one weekend⁠—with the student council president Sakura "Cosmos" Akino on Saturday, then with his childhood friend Aoi "Himawari" Hinata on Sunday. Sadly for Jouro, both girls proclaim their love for his best friend Taiyou "Sun-chan" Ooga, the ace of the baseball team. Accepting each of their requests for advice and guidance, he is now responsible for helping the two girls win the heart of the same guy.
Unbeknownst to his friends, Jouro's friendly and obtuse image is all but a ruse designed to cast himself as the clueless protagonist of a textbook romantic comedy. A schemer under his cheery facade, he makes the best of this unexpected turn of events with a new plan: get Sun-chan to fall for either Cosmos or Himawari and take the other as his own prize. But Jouro's last-ditch effort is threatened by the gloomy, four-eyed Sumireko "Pansy" Sanshokuin, who surprises Jouro with not only her knowledge of his secret personality but also a confession to the true self he hid for all this time.
Fruits Basket 2nd Season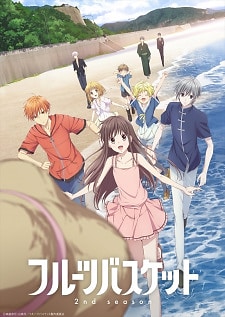 A year has passed since Tooru Honda began living in the Souma residence, and she has since created stronger relationships with its inhabitants Shigure, Kyou, and Yuki. She has also grown closer to the rest of the Souma family and has become familiar with their ancestral secret, having helped them with many of their personal issues. The closer Tooru gets, however, the more she begins to realize that their secret holds a darker truth than she first presumed. Summer is approaching and Tooru is invited to spend her days with the Soumas, mainly Kyou and Yuki. Tooru wishes for an easy-going vacation, but her close relationships with the two boys and the rest of the Soumas may prove to cause trouble. As they grow more intimate, their carefree time together is hindered by older hardships and feelings from the past that begin to resurface. The Eternal Banquet also dawns on the members of the zodiac, and they must tend to their duties alongside the unnerving head of the family, Akito Souma. With the banquet approaching and a plethora of feelings to be solved, will Tooru's life with the Soumas remain peaceful, or will she find herself in a situation from which she cannot escape?
Rent-a-Girlfriend
Kazuya Kinoshita is a 20-year-old college student who has a wonderful girlfriend: the bright and sunny Mami Nanami. But suddenly, he doesn't. Without warning, Mami breaks up with him, leaving him utterly heartbroken and lonely. Seeking to soothe the pain, he hires a rental girlfriend through an online app. His partner is Chizuru Mizuhara, who through her unparalleled beauty and cute demeanor, manages to gain Kazuya's affection.
But after reading similar experiences other customers had had with Chizuru, Kazuya believes her warm smile and caring personality were all just an act to toy with his heart, and he rates her poorly. Aggravated, Chizuru lambastes him for his shameless hypocrisy, revealing her true pert and hot-tempered self. This one-sided exchange is cut short, however, when Kazuya finds out that his grandmother has collapsed.
They dash toward the hospital and find Kazuya's grandmother already in good condition. Baffled by Chizuru's presence, she asks who this girl might be. On impulse, Kazuya promptly declares that they are lovers, forcing Chizuru to play the part. But with Kazuya still hung up on his previous relationship with Mami, how long can this difficult client and reluctant rental girlfriend keep up their act?
Isekai Quartet 2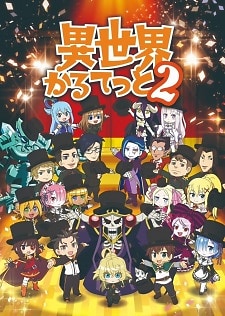 Despite completing all the tasks given to them, Ainz Ooal Gown, Tanya Degurechaff, Kazuma Satou, Subaru Natsuki, and the other members of Class 2 are surprised to find out that their role as students is far from over. With no means of returning home, the class of eccentric personalities is still mysteriously stuck in the unfamiliar world. Although, as they are becoming quite fond of each other, spending more time together does not sound that bad.
With the unexpected arrival of new transfer students, the comedic antics of our beloved characters continue to grow. Thus, their bizarre yet nonchalant school life continues.
Princess Principal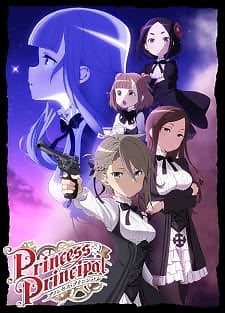 In the early 20th century, the discovery of the substance Cavorite allowed the production of advanced military technology and steered the country toward conflict. London is now divided by a wall, and the Kingdom and the Commonwealth of Albion battle a silent war where espionage is the only weapon that can destabilize the enemy. A group of girls from the prestigious Queen's Mayfaire school work as undercover spies for the Commonwealth.
Led by Dorothy, an experienced driver with a striking personality, their group includes the talents of Ange le Carré, a cold-blooded liar and expert sharpshooter; Chise, a proficient samurai; and Beatrice, a voice-mimicking specialist. They use their unique individual skills for the Commonwealth to survive in a dark world filled with conspiracy, mystery, and infiltration. In the shadow of the war, they have only one goal in mind: completing their mission.
Overlord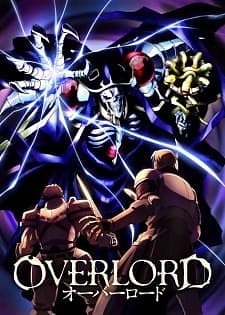 The final hour of the popular virtual reality game Yggdrasil has come. However, Momonga, a powerful wizard and master of the dark guild Ainz Ooal Gown, decides to spend his last few moments in the game as the servers begin to shut down. To his surprise, despite the clock having struck midnight, Momonga is still fully conscious as his character and, moreover, the non-player characters appear to have developed personalities of their own!
Confronted with this abnormal situation, Momonga commands his loyal servants to help him investigate and take control of this new world, with the hopes of figuring out what has caused this development and if there may be others in the same predicament.
Great Pretender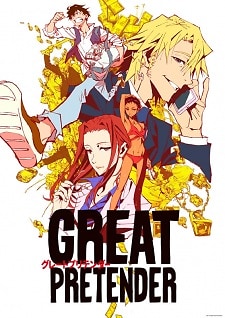 A series of unfortunate events has led Makoto "Edamame" Edamura to adopt the life of crime—pickpocketing and scamming others for a living. However, after swindling a seemingly clueless tourist, Makoto discovers that he was the one tricked and, to make matters worse, the police are now after him.

While making his escape, he runs into the tourist once again, who turns out to be a fellow con man named Laurent Thierry, and ends up following him to Los Angeles. In an attempt to defend his self-proclaimed title of "Japan's Greatest Swindler," Makoto challenges his rival to determine the better scammer. Accepting the competition, Laurent drops them off outside a huge mansion and claims that their target will be the biggest mafia boss on the West Coast.

Jumping from city to city, Great Pretender follows the endeavors of Makoto alongside the cunning Laurent and his colorful associates in the world of international high-stakes fraud. Soon, Makoto realizes that he got more than what he bargained for as his self-declared skills are continually put to the test.